Popularly known as the cultural capital of India, Chennai has embraced rich heritage and culture for years. The intricate architecture, vibrant art forms of Chennai are worth missing. Located on the Coromandel coast of Bay of Bengal, today's Chennai, yesterday's Madras is the biggest hub of cultural, educational and health centre. Experience the unique and rich diversity of one the metropolitan city of India. ITEAM outing has listed the various places in Chennai for an awesome one-day tour. Let's go through the list……
Considered to be the second longest beach in the world, this name MARINA itself is an emotion. Eventually, it developed to be a common men's space for recreation and romance but with time it gained popularity and became a famous tourist spot. With various food stalls, small rides, golden sand and shimmering blue sea Marina beach is wonderful to see.
THOMAS BASILICA CHURCH (Mylapore): –
A stunning piece of architecture, built in neo-gothic style by Portuguese explorers in the 16th century, this place has an aura of extreme peace and serenity. It has a museum which has the great apostle's fingerprint and wall paintings. With close proximity to the sea and Church's beauty, this place is worth missing.
DAKSHIN CHITRA (25 km to the south of Chennai): –
Restoring the culture of South India, this museum has the collection of various arts, crafts and antiquities. Showcasing different artefacts, this place has redefined the South Indian cultural heritage. Visit this beautiful place to feel the age-old tradition of various south Indian states.
Spread over 3.2 hectares, the Crocodile Park in Chennai has developed with various species of alligator and crocodile. With 700 species of crocodiles, this project emphasizes on spreading ecological awareness. Apart from this, it has Gharial underwater, snake venom extraction centre.
ISKCON TEMPLE (ECR ROAD): –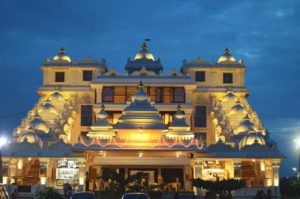 Dedicated to Lord Krishna, ISKCON temple is located near to VGP Golden beach. The temple is made up of white marble and constructed on five levels. Spread over an area of 1.5 acres, it has a charismatic ambience and aura of serenity all around.
MAHABALIPURAM (60 km south of Chennai): –
Reflecting the age-old South Indian architecture, this place has gradually risen to become the most famous tourist place of Chennai. Carved out of Granite stone there are various rock-cut sculptures. To add to its beauty, the golden sandy beach embraces you where you can laze out. Escape the hustle and bustle of the city and freshen up yourself by visiting this place.
BESANT NAGAR BEACH (Besant Nagar): –
Also known as Elliot's beach, this beach is one of the cleanest beaches with a calm surrounding. Get a lazy walk and soak your feet in the sea waves.
GUINDY NATIONAL PARK (Rangeguindy): –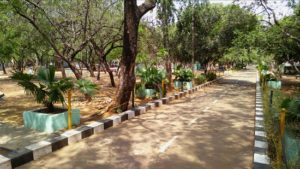 A home to blackbucks, jackals, snakes, deer, birds, insects this park is a saviour of various endangered animals. Spread over an area of 2.82 kilometres square, this place has 350 species of plants as well.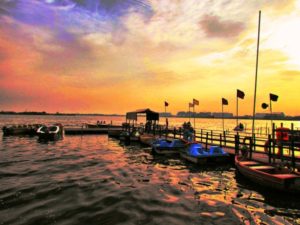 Experience the backwaters of Kerala in Chennai by visiting this place on the outskirts of Chennai. An awesome place for experiencing boating and nature with your loved ones. One of the best places in Chennai to spend some peaceful time which will relax you throughout.
ASTALAXMI TEMPLE (Besant Nagar): –
Located near the Besant Nagar beach, lies the colourful temple of Goddess Asthalaxmi and her eight primary forms- success, offspring, prosperity, wealth, courage, food, bravery and knowledge. Enjoy the serene beauty of the temple and the beauty of the nearby beach by visiting this temple.
ROYAPURAM FISHING HARBOUR (Kasimedu): –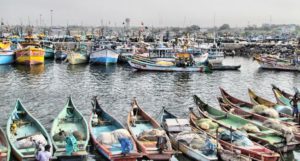 Also known as Kasimedu fishing harbour, this place is located north of Chennai port and can accommodate more than thousand fishing boats. It is a major fishing ground and a perfect place for all the fish lovers.
There are more places in Chennai like Kapaleeshwarar temple, Vandalur zoo, Valluvar Kottam, Kishkintha and the list goes on and on and on. The more you roam the more you explore……
More details visit our website: https://iteamoutings.com/