Leonia holistic destination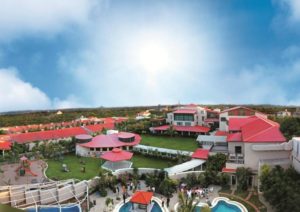 Leonia holistic destination located in Hyderabad is the first of its kind destinations in the world.
It is home for an exceptional convergence that fascinates different segments, such as, individual, business, wellness, leisure, and MICE.
The facilities here include villas and hotels, multi-cuisine restaurants; lounge bars; multipurpose convention arena; board rooms; meeting halls; recreational facilities; kids' facilities; water activities; internationally acclaimed medi spa; live performances; movie theaters, night club, wedding facilities and India's first surfing ridge.
A fascination that inspires your indulgence!
Enter to live your dreams…
To thrive for overall customer satisfaction and customer experience. Striving to be the best in the industry. To encourage innovation in hospitality, recreational, holistic wellness and medicine.
Leonia Holistic Destination in Hyderabad, is home for an exceptional convergence that fascinates different segments, such as, individual, business, wellness, leisure, and MICE (meetings, incentives, conferences, exhibitions)
Button Eyes resort
Button Eyes resort offers valuable services with lot of fun situated at a prominent friendly location in Hyderabad with amazing greenery around.
You can enjoy a leisurely time with your family, loved ones or your corporate team members. The beautiful environments of the resort will surely rejuvenate and refresh you to no end.
The Resort offers up amazing facilities and services that are sure to make your day out at the Button Eyes Resort more comfortable and memorable. Located amidst jade green lawns, the environs of the resort itself are a refreshing breather. Take a refreshing dip at the Swimming pool, play an exciting game of cricket at an open theatre structure or simply stroll long the lawns. You can have a small catch up at the roof gardens or indulge in some games in the lawns
Button Eyes resort offers valuable services with lot of fun situated at a prominent friendly location in Hyderabad with amazing greenery around.
Aalankrita Resort
Aalankrita is an eco-friendly resort, lush in greenery with an abundance of manicured lawns and stately trees. It blends the convenience of a 5-Star resort, the ambiance of a heritage site and the ethnicity of the times gone by. Innovative & custom-designed concept, they focus on individuals and corporate and boast of an array of luxurious facilities.
When one thinks of living, relaxation, total comfort & spending time in a pleasant style blessed by Mother Nature, Aalankrita is the place to go to. So delightful and so magnificent that your dream of a perfect holiday comes true.
Willow Springs Resort
A smooth and comfortable drive of about 30 minutes on the National Highway – 7 leads you to a breath taking place with lots of greenery to behold and soothing to the soul – Willow Springs which appears as though emerging as an "oasis" amidst the "concrete jungle".  HAVEN ON THE HIGHWAY hence is the right way to describe this property beckoning all those who really want to take a break away from the humdrum of their daily routine.
Willow Springs which appears as though emerging as an "oasis" amidst the "concrete jungle". HAVEN ON THE HIGHWAY
Celebrity Resort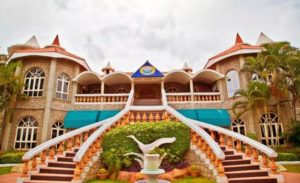 Enjoy an exciting one day out with your loved ones in the comfort of Celebrity Resort in Hyderabad! This is the first and the best resort in Hyderabad of its kind located at Shamirpet. It is a 4 star, lush property spread across 210 acres of tranquil surroundings with lush green trees playing host to golden sunrises and sunsets, giving it an authentic countryside feel. This resort will give you a vast array of 70 well-planned rooms to choose from. Guests can salute the morning sun by taking a dip in the resorts clear and clean outdoor swimming pool. There is also a health club with a spa and Jacuzzi facility. You can also contemplate in solitude in its landscapes suitable for rejuvenation. Celebrity Resort avails for you some excellent banqueting facilities and has five conference halls where major corporate events, marriages and functions can be hosted and has facilities to accommodate a gathering of any volume. The Fiesta Club Restaurant and Orange Bowl Restaurant will also provide various delicacies to suit your palette and ensure that you enjoy a delicious experience during your day outing here
Srinidhi Resorts
At SRINIDHI JOY 'n' JOY Clubs & Resorts you will discover a super-inclusive world of supreme luxury and infinite possibilities. A life in balance, where whatever you enjoy – sport, fitness, relaxation, serenity – you will enjoy with a new perspective. Places known for indulgence, where the cuisine is no exception – an array of restaurants – creates a global adventure that will tempt your palate.
The Best of Everything is we have something for all ages to keep your family happily occupied for hours with which you'll get to be pampered like a family without having to worry about the budget
Pride Resorts
Pride Resorts offer luxurious accommodation, excellent hospitality, entertainment, state-of-the-art business facility and fun filled recreational activities
A place, where you can treat your entire family & friends to an out of the world experience.
A chance to be a part of the Magic, Allure and Grandeur that defines the very spirit of Fun & Relaxation!
Everything you'd dream of holiday is here spread in 14 acres of land, located behind Capol Bones Hospital, before Bibinagar on Warangal Highway. It is just 30 minutes drive from city.
Assessing and analyzing the taste of all according to the changing trends in modern society, be it corporate to hold conferences/meetings or family crowd for an Day Outing and school children on day picnic. It has been designed with all amenities to meet the requirements of all in the best possible way.
Honey Berg Resort
Suchirindia's Honey Berg Resort located on karimnagar Highway is a true destination.
Unlimited Drinks , Mouth Watering Starters yummy food and dashing live band music with sizzling ramp shows and dance performances. All this at world-class stage. Beyond the performances laser show thrills you. Our well trained stewards are at your disposal to serve you. We make sure that your, New year starts in an exciting and wonderful atmosphere away from the routine.
It is an unending journey of life. A life filled with lots of love, Tons of Emotions, Unforgettable Memories, Everlasting Relationships and never ending Tensions and search for success solutions. You are identified by the unique way of balancing all these.
That is the reason; we have pampered our inner thoughts of designing a special place for your inner space to be evoked to the best moments that gift our guests their own best identity.
You can tickle your inner tastes, Enjoy different feasts, Tickle your sensuous space, warm up your inner passion and share it with your soul & playmate.
Revolutionize the way You Romance – The Romance amidst Nature. Experience yourself truly.
With this intension of designing a specialized project especially for YOU, After gifting many successful ventures, every time with a special concept & theme, now, we proudly bring you the Most Romantic Gateway, Honey Berg a Romantic Retreat (Boutique Resort) A sensuous chocolate massage at our SPA is just one of the many delectable experiences that make Honey Berg the perfect romantic gateway. Profess your love over an elaborate 3-course candle light
dinner at the Lounge Bar. Serenade her with champagne in the Singapore sling, suspended in the sky.
Ragala Resorts
Ragala Resort is located in Hyderabad , just 1.5 kilometers from MMTS railway station and 40 kilometers from Hyderabad airport. The resort has 70 acres of land with 10 acres of club house. It offers all modern amenities like 24 hour running water, electricity and telecommunication. The resort is placed in a beautiful landscape of natural scenery with lush greenery and misty fragrance.
This resorts have beautiful amenities of Beautiful cottages with attached bathrooms. Club house and Banquet hall, Cricket ground, Rain dance floor, Indoor games like tennis, carom, Well equipped gymnasium, Multi cuisine restaurant- outdoor and indoor, Lawns, Child play area.
Lahari Resorts
Lahari Resorts – A unique getaway where the carpet beneath your feet is over 35 acres, and the ceiling is an unending vastness. A setting spun midst the ethereal beauty of nature with shimmering water bodies, water fountains, flowerbeds, lawns and paving sculptures adorning the topography.
Situated in the historic city of Hyderabad, Lahari Resorts was started in the year 2006 to cater to the citizens of this city. It is a perfect corporate destination for Business and Pleasure.
Lahari is well equipped with both entertainment as well as leisure activities for all ages. The resort boasts of an International Standard Cricket Stadium, Swimming pools (both indoor and outdoor), Wi-Fi Enabled Conference Halls, Restaurants & a Hotel comprising of 59 Centrally Air-Conditioned Luxurious Rooms and Suites for all accommodation needs.
The perfect getaway place. Come enjoy the calmness of nature, indulge in a variety of leisure activities, refresh, rejuvenate & experience BLISS!
Pavani Resorts
Pavani Resorts has nine rooms, 4 huge lawns, one swimming pool, 2 children pools, a large kids area and an array of outdoor and indoor games and a restaurant.
If you're looking for a getaway from the cities chaos then this is the place. We can arrange for exclusive areas where you, your family & friends can relax & have fun.
Come En
joy some delicious food and get treated like royalty.
Pavani Resorts is one of the first resorts in Hyderabad. Ideal destination for family day outings, school & college picnics, team building activities.
More details visit our website: https://iteamoutings.com/best-team-outing-places-in-hyderabad/