Bachelor/ Bachelorette Parties
From kinky games to mini vacations to grooving at the concerts to visiting a club/bar, all of this screams FUN, FUN, FUN.
Bollywood Night

Are all of you die-hard Salman Khan fans? In that case, nothing make you happier than watching the latest hindi movies with your besties by your side. Well, then make a Bollywood night out of it! Rent a few movies and pass out the sarees and samosas. Don't forget to plaster posters of your favorite actor/actress all over the walls! This unique idea is sure to give you a night full of memorable laughter and tears … the Bollywood style!
Finding the bars and the clubs to cliché for a bachelor/bachelorette party? No problem! Arrange for dinner at a great restaurant after which, you can choose to buy tickets for a fun time at a comedy club or maybe a karaoke bar. For a little more upscale approach, get tickets to a play or opera.
Concert

Is there a band the bride or groom absolutely adores? Arrange for tickets to a concert or show. This would be the best surprise that he/she ever got! Follow up the activities with a bonding session at a café or at someone's home.
Vacation
If it's not all about the money then this is the ultimate idea. Why not whisk the bride or groom away to a nearby island or to Las Vegas? This will make memories that will last a lifetime. The last thing the bride will be thinking about is all the wedding plans when she's sipping a fruity drink poolside!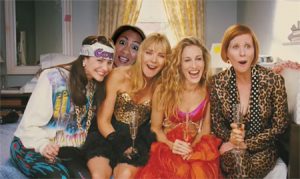 Spa
Who doesn't love a little pampering? Have all the girls pitch in to take a trip to a spa to get facials, body massages, pedicures, etc. No girl can resist that! After your relaxing trip to the spa get all of your girls together for lunch.
Turn this kids' game into a grown-up activity! Split the girls into two teams and make a list of items they all have to find. Everyone will have a blast, especially if the items are in different areas around town. For the most fun, get a video camera for each team so you can all watch and share in the fun after the game is over.