1- RD's Nature Retreat
RD's Nature Retreat, in Bangalore for couples, family, or corporate is the perfect getaway from Bangalore. Nothing brings people together like tranquility and nature. We provide the best atmosphere to unwind as you catch up on some much-needed recreation Forest Glance.
Cool breeze of the air around, music of the chirping birds, energizing sound of the falling water, fragrance of the wild flowers, silent roars of the animals, humming of the bees and beetles! What's more tranquilizing than enjoying such moments spent in the lap of Mother Nature. You can also bring out the dancer in you at the artificial rain experience floor, chill out at the lawn restaurant, savour your taste buds at the artificial cave restaurant, soak in the mesmeric artificial waterfall and be a child when you enter the water pool. RD's Nature Retreat offers the best ways to understand, explore, live and love nature. It intends to protect and develop nature and its wildlife. You can stealthily watch birds here, rock while you trek, enjoy the adventurous sports, learn at nature's workshop, polish your flora-fauna knowledge, show off your fishing skills, go on a lovely boating voyage, have a romantic walk around and finally shelter in natural looking eco camps.
We provide a refreshing environment for corporate activities. We have been a upcoming destination among corporate looking for team building activities. Mould the future and discover unending opportunities. Challenge yourself in untested areas and novel worlds in the midst of Mother Nature with those that matter to you. With our wide range of amenities, we cover every angle to provide you the ideal escape.
2. Holiday Village
Holiday Village he resort has been around for ten years and it is located in south Bangalore. Live Indian and western music, live facilities for watching cricket, a vast and well maintained swimming pool and excellent cottages are some the fine features at the resort.
As far as food is concerned, organically grown vegetables from the hotel's own farm are used, and the chefs are well trained and efficient.
3. Chairman's Resort
Chairman's Resort is one of the most spectacular and truly integrated resorts in Bangalore catering for everyone's needs.
Chairman's Resort aims to combine for its members business, leisure, recreation and fitness by providing a wide and comprehensive range of facilities and services exclusively for its valued members. The variety of amenities available, such as accommodation, bar and restaurants, sports, Conferencing and recreation facilities, and the provision to host both corporate and private functions, is uniquely tailored to suit the lifestyle demands of today's world.
4. Mango Mist Resort
started in the year 2010 solely to revive one's golden memories of Indian childhood spent in the Mango fields amidst the early mist filled with mischief, joy, fear of unknown excitement and adventure, and sweet aroma of the mangoes blended in the fragrance of the wet mud.And pass on these stories to their child, beloved ones, a friend or anyone who is yet to taste this sweet intoxication in their life.
Life at MangoMist –
Offers a collection of South Indian Styled Cottages and Tree houses with modern facilities in a large acres of Mango farm with mango trees, a lake, and rich green grass with pleasant sightings of beautiful birds, all making it one rich green lush environment.
Our authentic farm resort also includes all essential resort services like fine dining, spa and fun activities such as fishing, Bar-B-Q, swimming …..
MangoMist welcomes events like special get-together with your family/friends on your Birthday, Anniversary or any other Celebrations. We can arrange Mist filled Dance Floor+DJ or totally special, undisturbed private dinning.
We have exclusive activities and amenities that delight all ages – from spa and fitness programs, tennis, lake activities and pool fun, to biking, hiking and all other entertaining, cultural and educational offerings you might wish to have, and assist with any of the details to insure your visit is fun, memorable and relaxing.
5. Imera Spa & Resort
A star resort housing luxury hospitality, fine dining, bar, event spaces for corporates, seminars, weddings, and a 24/7 cafe with hookah lounge.
Located in one quiet corner of Bengaluru, Imera Spa & Resorts is the ideal place for people looking to unwind and get a taste of the swanky lifestyle.
With its iconic architecture, amenities and a perfectly secluded environment, this posh development provides residents with unrivalled hospitality, fine dining, spa and event spaces of up to 50000 square feet.
6. Aadya Resort
Aadya Resort Bangalore is located on Doddabalapura Main Road and it is a place where you can unwind yourself, away from the unremarkable affairs of thecity.
Aadya Resort & Ayurvedic Wellness center in Bangalore an oasis of absolute peace and quietness, tucked in rich greenery. The tall trees influencing in the delicate breeze, as though singing an appreciated melody for you; the tweeting of the feathered creatures stowing away in bushes and behind the trees, will welcome you on your arrival at the resort.
7. Olde Bangalore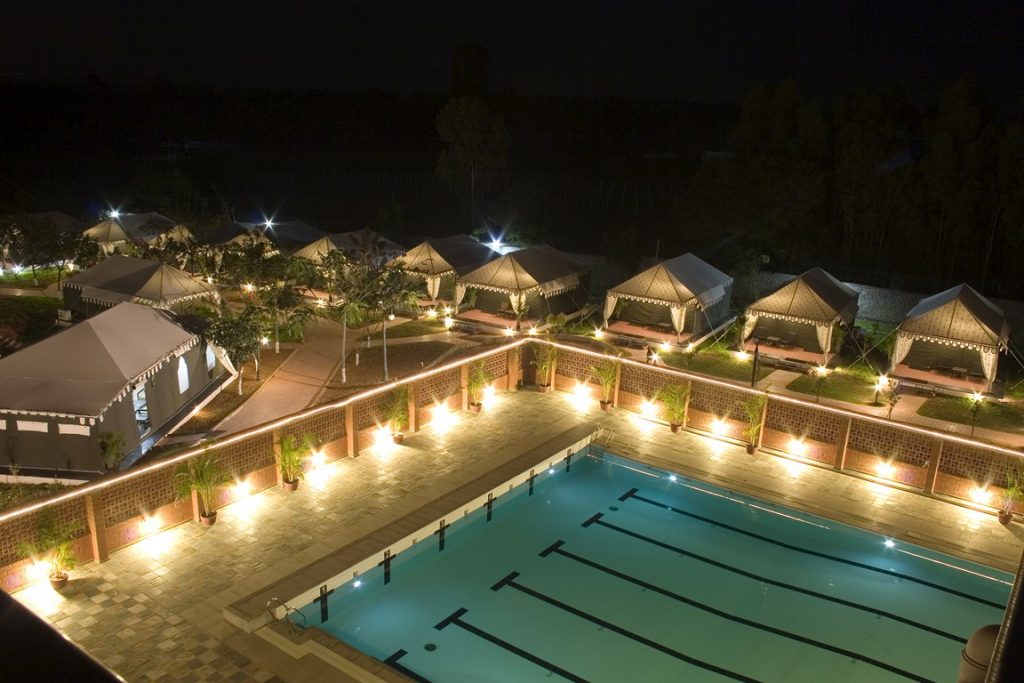 Coming to Olde Bangalore is like taking a slow and lazy trip back in time – hard to imagine something like this in the middle of a city gone wild! Waking up to bird-song and retiring to the sound of silence are luxuries now available only miles away from habitation, unless you are at Olde Bangalore. As the cool breeze of nostalgia wafts through your mind, prepare to soak yourself in the soul of a Bangalore that is but a distant memory now – a city that was once refreshingly different from any other!
8. Capital Club Resort
The Resort treat you as if you belong to a world-class clubhouse. You will be guided through our extensive menu, elegant wine list,and daily specials by our professional and knowledgeable staff. We feature the traditions, tastes, and trends of great American favorites, seasonal specialties, and delightful combinations of regional flavors to tempt your palette. Through our exceptional service and special membership touches, we ensure our guests nothing less than an outstanding dining experience.
Resort located in the picturesque surroundings of Anjanapura, just 16kms from the city of Bangalore. A charming resort that will take you away from the hustle and bustle of the city right into the lap of nature. This advantageous location makes Capital Cl
9. Meenakshi Resorts
The Perfect Get away to experience nature up-close. Meenakshi Resorts is the innovative, enchanting and a lavish green surrounding resort located in between Electronic city & Bannerugatta Park which wides up to 30+ acres in the midst of developed villages area. We provide a refreshing environment for corporate, families and school picnics with well equipped and maintained Adventure games, indoor, outdoor and Team building activities. Good place for occasions like Wedding, Birthday and any family celebration events.At the end of an exciting day, relax on the lawns, stay on camping tents or rooms.
Meenakshi Resorts will continue to be a global, four-diamond hotel company offering consistent products and services in key business and leisure destinations. Our growth will be achieved through hotel ownership, management and selective franchising. We will be known for our innovation, exemplary service and superior financial performance. Meenakshi Resorts is committed to being the employer of choice in the hospitality industry.
10. Farmer's Son Resort & Adventurous Sports
The facility is increasingly embracing the tent model glamping stay with camp fire & night party to make your stay memorableand now offers several choices for weekend gateway & adventures acitivties including Dirt Bikes , Quad Bikes , Pocket Bikes , Paintball , Mountain Cycling ,Airborne Sumo Wrestling, Archery, Cricket Machine ,Volley Ball , Basket Ball ,Indoor Games – Table Tennis , Mini Billiards / Pool , and Child Play Area with all safety mats & equipments